1957 | Harvard
Iverson Notation
When Harvard launched the world's first graduate program in automatic data processing, the material was presented using a novel mathematical notation for manipulating arrays. It was proposed and developed by an assistant professor by the name Kenneth Eugene Iverson.

Iverson notation, as it became known, proved to be simple, efficient and popular among students.

Ken will always be remembered as a brilliant teacher. Once upon a time, he met a young son of his friend Eoin Whitney, a twice Putnam Fellow, and a fellow graduate student from Alberta, and introduced the boy to the notation he developed for graduate students.

The boy's name was Arthur, and he was 11 years old.
1962 | IBM Research, Yorktown
The origins of APL
Iverson joined International Business Machines where he formalized his notation with Adin Falkoff and published it in his seminal 1962 book "A Programming Language".

The following year, Iverson notation was chosen for the formal description of the legendary IBM System/360, known as "Grey Manual".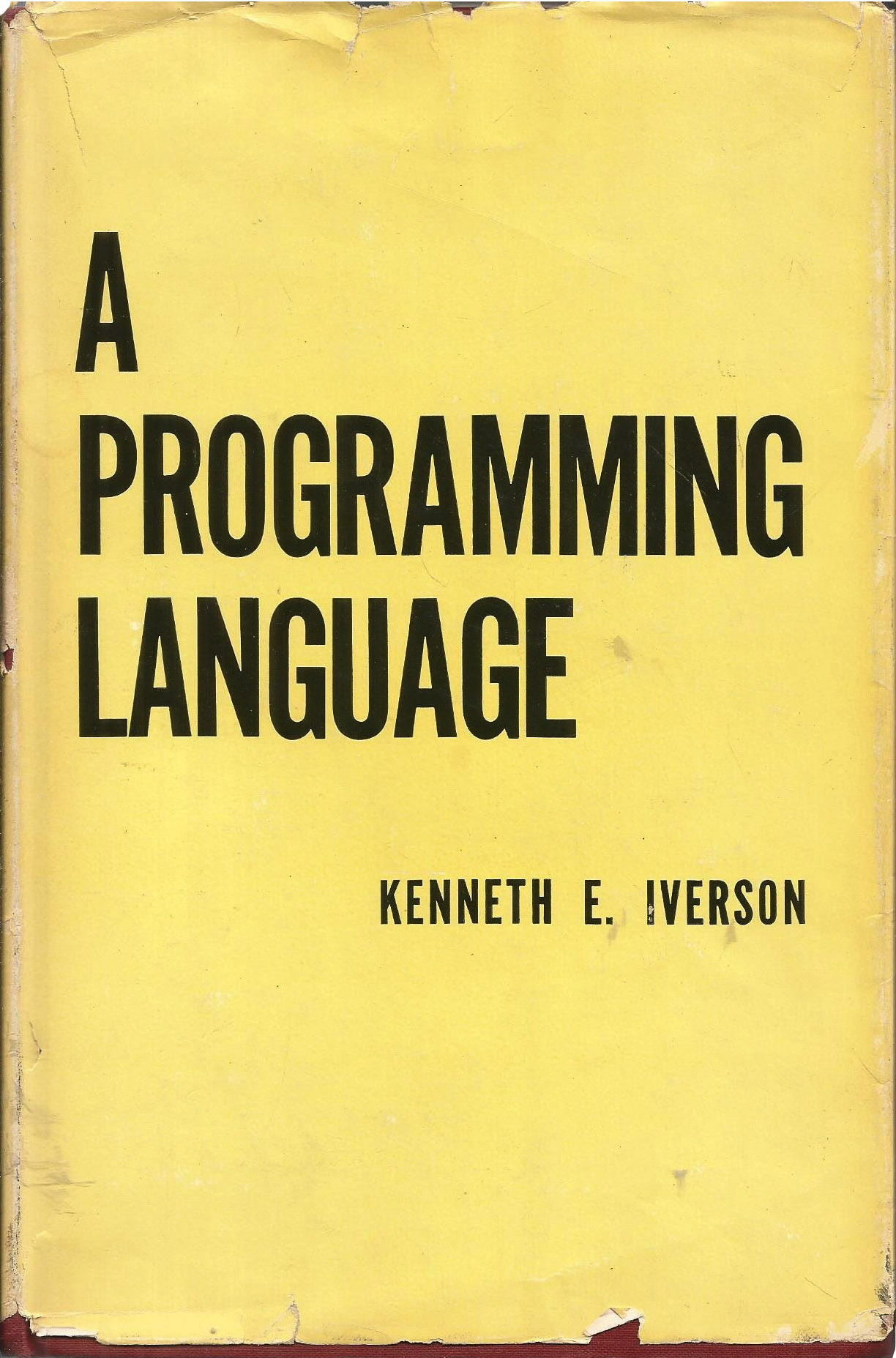 1965 | IBM | Stanford
The birth of APL
Falkoff and Iverson assembled a crew of talented and motivated Stanford graduates, including Larry Breed, Phil Abrams, Roger Moore and Charles Brenner, to implement the first ever APL interpreter.

The result, implemented on IBM System/360, was a ground-breaking interactive programming environment that set new standards of simplicity, efficiency and responsiveness. At its heart, APL is an combination of universality of a computer language and the most powerful instrument of human reasoning - the mathematical notation.

The first official application of APL was to teach formal methods in systems design at NASA Goddard.
1979 | Thomas J. Watson Research Center
The Turing Award
By 1970, APL systems began to ship worldwide. IBM, jokingly dubbed "Iverson's Better Math", successfuly marketed specialized APL hardware, training and turn-key business solutions implemented in APL. In 1969, Iverson and his APL group inaugurated the IBM Philadelphia Scientific Center, and Iverson was named IBM Fellow.

In 1979, Ken's pioneering effort earned him the highest distinction in computer science — The Turing Award, so named after a man who has little to do with the personality portrayed by some British actor.
"If you seek his monument,
look around you."
1980 | Toronto, Canada
I.P.Sharp Associates
In 1980, Iverson left IBM for I.P. Sharp Associates, a legendary APL time-sharing company. I.P. Sharp had a tremendous influence on the evolution of APL, and is responsible for many fundamental improvements and extensions of the language.

Among these contributions is the famous rank operator, invented by a young I.P. Sharp associate by the name Arthur Whitney.
1988 | Morgan Stanley
The origins of A
In 1988, Arthur Whitney was invited to Morgan Stanley to advise on migration of their extensive APL infrastructure away from aging mainframe designs towards distributed systems — while APL itself remained a language of choice in various departments and well-suited for existing workloads.

Unimpressed by solutions he evaluated, Whitney offered his own implementation of a lighweight APL dialect geared towards firm's needs. The language, called "A", combined high performance and scalability, retained the existing APL talent, provided an easy migration path and was a major success. Whitney also advised the development team on the design of "A+", a version with a graphical user interface.
1988 | Mount Cisco, New York
The origins of J
One summer weekend in 1989, Arthur Whitney visited Ken Iverson at Kiln Farm and produced — on one page and in one afternoon — an interpreter fragment on the AT&T 3B1 computer.

The organization and programming style of this interpreter served an inspiration for the team led by Roger Hui, Arthur's former classmate, to begin their work on J language, the successor of APL.

Although this ancient artefact has long outlived its purpose, the ability to port this code to a modern architecture and prove its correctness still remains a good way to score an extra point or two at some job interviews until present day.
1992 | St.Petersburg, Russia
The origins of k
In computerized society where individuality is diminished, there are those who find little or no satisfaction in strict conformity to stereotyped thinking and are searching for their own answers to life's questions and how best to live, work and find inspiration.

Although little is known about what transpired during his brief visit to the Northern Venice, the idea Arthur conceived during that trip is much better known — he had a clear and uncompromising vision of a new system.

In 1992, Whitney departed from Morgan Stanley to fully concentrate on the design of a new computer language.